We've added some more new titles to the library collections… why not pop down to the library & take a peek at the new books section?
Rethinking practice as research & the cognitive turn
Shaun May
792.019 MAY
Main Book Collection
The last 15 years has seen an explosion of studies that use cognitive science to understand theatre, whilst at the same time theatre-makers are using their artistic practice to address research question. This book looks at the current discourse around these emerging fields.
Using the Sky : a dance
Deborah Hay
792.82092 HAY
Main Book Collection
In the mid 1990's Deborah Hay's work took a new turn. From her early experiments with untrained dancers, and after a decade of focusing on solo work, the choreographer began to explore new grounds of choreographic notation and transmission by working with experienced performers and choreographers.
Practice-led research, research-led practice in the creative arts
Hazel Smith (ed)
700.72 PRA
Main Book Collection
This book addresses one of the most exciting and innovative developments within higher education: the rise in prominence of the creative arts and the accelerating recognition that creative practice is a form of research.
The book considers how creative practice can lead to research insights through what is often known as practice-led research. But unlike other books on practice-led research, it balances this with discussion of how research can impact positively on creative practice through research-led practice. The editors posit an iterative and web-like relationship between practice and research.
Research methods in theatre & performance
Baz Kershaw & Helen Nicholson (ed)
792.0721 RES
Main Book Collection
How have theatre and performance research methods and methodologies engaged the expanding diversity of performing arts practices?
How can students best combine performance/theatre research approaches in their projects?
This book's 29 contributors provide hands-on answers to such questions.
Challenging and debating received research wisdom and exploring innovative procedures for rigorous enquiry via archives, technology, practice-as-research, scenography, performer training, applied theatre/performance, body in performance and more, they create a focussed compendium of future research options.
French moves : the cultural politics of le hip hop
Felicia McCarren
792.80944 MCC
Main Book Collection
For more than two decades, le hip hop has shown France's "other" face: danced by minorities associated with immigration and the suburbs, it has channeled rage against racism and unequal opportunity and offered a movement vocabulary for the expression of the multicultural difference that challenges the universalist discourse of the Republic….
This book, the first in English to introduce readers to the French mouv', analyzes the choreographic development of hip hop into la danse urbaine, touring on national and international stages, as hip hoppeurs move beyond the banlieue, figuring new forms within the mobility brought by new media and global migration.
Body memory, metaphor & movement

Sabine C. Koch, Thomas Fuchs, Michela Summa & Cornelia Muller
152.3 BOD
Main Book Collection
Body Memory, Metaphor and Movement is an interdisciplinary volume with contributions from philosophers, cognitive scientists, and movement therapists. Part one provides the phenomenologically grounded definition of body memory with its different typologies.
Part two follows the aim to integrate phenomenology, conceptual metaphor theory, and embodiment approaches from the cognitive sciences for the development of appropriate empirical methods to address body memory.
Part three inquires into the forms and effects of therapeutic work with body memory, based on the integration of theory, empirical findings, and clinical applications. It focuses on trauma treatment and the healing power of movement. The book also contributes to metaphor theory, application and research, and therefore addresses metaphor researchers and linguists interested in the embodied grounds of metaphor. Thus, it is of particular interest for researchers from the cognitive sciences, social sciences, and humanities as well as clinical practitioners.
A geometry of music : harmony & counterpoint in extended common practice
Dmitri Tymoczko
781.2 TYM
Main Book Collection
A Geometry of Music provides an accessible introduction to Tymoczko's revolutionary geometrical approach to music theory. The book shows how to construct simple diagrams representing the relationships among familiar chords and scales. This gives readers the tools to translate between the musical and visual realms, revealing surprising degrees of structure in otherwise hard-to-understand pieces.
Teaching & learning through reflective practice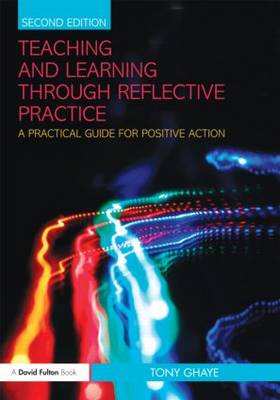 Tony Ghaye
371.102 GHA
Main Book Collection
Now in its second edition, Teaching and Learning through Reflective Practice is a practical guide to enable all those involved in educational activities to learn through the practices of reflection. The book highlights the power that those responsible for teaching and learning have to appraise, understand and positively transform their teaching. Seeing the teacher as a reflective learner, the book emphasises a strengths-based approach in which positivity, resilience, optimism and high performance can help invigorate teaching, enhance learning and allow the teacher to reach their full potential. This approach busts the myth that reflection on problems and deficits is the only way to better performance.
Art as research : opportunities & challenges
Shaun McNiff (ed)
700.72 ART
Main Book Collection
The new practice of art-based research uses art making as a primary mode of enquiry rather than continuing to borrow research methodologies from other disciplines to study artistic processes. Drawing on contributions from arts therapies, education, history, organizational studies and philosophy, the essays critically examine unique challenges that include: the personal and sometimes intimate nature of artistic enquiry and the complexities of partnership with social science, which has dominated applied arts research; how artistic discoveries are apt to emerge spontaneously, even contrary to plans and what we think we know; how truth can be examined through both fact and fiction as well as the interplay of objective and subjective experience; and ways of generating artistic evidence and communicating outcomes. Offering examples from all of the arts, this volume will be welcomed by researchers and students in many fields.
The Routledge companion to research in the arts
Michael Biggs & Henrik Karlsson (ed)
700.72 ROU
Main Book Collection
The Routledge Companion to Research in the Arts is a major collection of new writings on research in the creative and performing arts by leading authorities from around the world. It provides theoretical and practical approaches to identifying, structuring and resolving some of the key issues in the debate about the nature of research in the arts which have surfaced during the establishment of this subject over the last decade.
Watching Weimar dance
Kate Elswit
792.80943 ELS
Main Book Collection
Watching Weimar Dance asks what audiences saw in the peculiarly turbulent and febrile moment of the Weimar Republic. It closely analyses the reception of various performances, from cabaret to concert dance and experimental theatre, in their own time and place – at home in interwar Germany, on tour, and later returning from exile after World War II. Spectator reports that performers died or became half-machine archived not only the physicality of past performance, but also the ways audiences used the temporary world of the stage to negotiate pressing social issues, from female visibility within commodity culture to the functioning of human-machine hybrids in an era of increasing technologization.